Excerpt from Lila's Dance...


...Daniel unharnessed the mare and led her into the small stable behind his house with Lila on his heels. He felt her hand slip to into the pocket of his coat and turned a puzzled glance her way.
Lila smiled holding up a folded square of paper. "Do you have a nail and a hammer?" she asked.
He nodded, frowning in confusion. But he walked to the small bench where he kept a number of tools and gave her the items she had requested.
"Thank you," she said lightly, tipping up to kiss his cheek before leaving him alone.
The animals were no more than bedded down for the night before Daniel heard the tapping of the hammer. He followed the sound around to the front of the house and stopped in surprise. Lila was nailing the unfolded paper to the front door.
Their marriage document was about to be left to flutter in the midnight breezes.
When she had finished the chore, Lila stood back, giving a satisfied nod. "There! That should do it."
He stepped up behind her and placed his hands on her shoulders. "Do what?"
Lila continued to admire the piece of paper. "I can just hear Mae Belle Willougby now," she said and began imitating the older woman's scratchy voice. 'We don't know they're married for sure,' she'll say. 'None of us was invited to the wedding, were we? We haven't seen a marriage paper, have we?' Now they will all see it," Lila added happily.

"Lila's Dance is a sweet, heart-warming tale that will touch readers' hearts - a two-hankie read! Ms. Metcalf makes one believe in love and romance and happily ever afters."
...Romantic Times

"With warm humor, candor and a knowledge of human nature, Ms. Metcalf has given this reader a haven of rest and relaxation frequently sought in this era of confusion and chaos. An all round treat for the spirit!"
...Heartland Critiques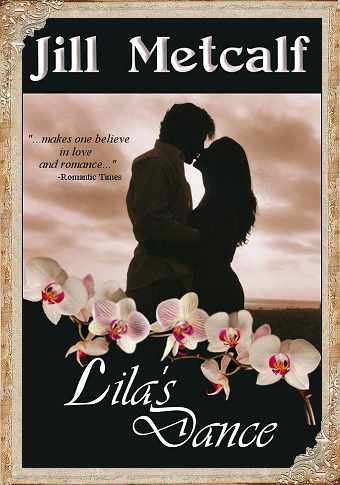 From the first embrace, their bond of love grew ever stronger.

Lila
She raised her younger siblings with a practical hand, and had no time for frivolous dreams of love.


Daniel
The young doctor left behind a life and a love affair in Boston - and saw in Lila's eyes the chance to start again.

Together they shared love's bittersweet gifts, from the trials of family life to the joy of waltzing in the summer moonlight. But small-town talk can turn the simplicity of new love to the sharp sting of scandal. Now Lila and Daniel must hide their feelings and be what others expect - or follow the song of love that carried their hearts away.

Lila's Dance is also available at: